One loop controller
Using a few Single loop controllers is excellent in cost performance for building a measurefewmnet and control system with a few items.
Features
Our recommendation: The mk-750 series controller by ASR(Automatic System research Co.,Ltd.)
Controller(pH, DO, Anti-foamin and etc) available
A box for mounting the controllers and peristaltic pumps available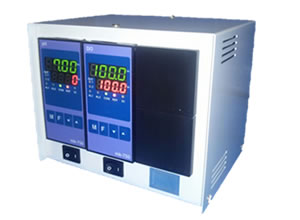 Bioprocess controller D
Integrated desk top instrumentation system for small size fermentor's measurement, control and networking.
Features
7 inch color graphic touch panel for good visibility and operability
Factory equipped with thermal mass flow meter for precise control of air flow rate
Applicable to both top entry driving and bottom enntry stirring system
Flexible arrangement of fermentor vessel from the controller
The same kind of performance as large scale fermentor
Kinds of feeding control mode such as pH stat, DO stat, time driven control and so on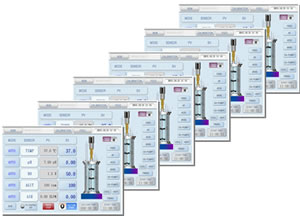 Bioprocess controller P
Integrated system of supervisory control for not only fermentor but another up/down stream equipment including sequential control(e.g. SIP), analog loops' control and alarming
Features
Graphic Touch Panel(more than 10 inch size) used as MMI(Man Machine Interface) for easy operation
Menu-driven operation for the necessary monitoring and procedures(e.g. switching, setting, etc)
Ready to customize the MMI by discussion to meet the demand of your bioprocess control
監視・制御ソフトウェアD
パソコンで培養を監視、制御、記録、解析することが可能なソフトウェア(Ferm Expert)です。
Features
制御コントローラーとPCの相互通信可能
CSVファイルとして出力可能
周辺機器の制御、データーロガー可能
培養データのチャート表示機能
データ解析に必要な解析ライブラリ搭載
多数基のファーメンターの制御可能