A Compact fermentor that suits determining the suitable culture condition for scaling up and basic research.
Several sizes of autoclavable vessel are available up to 10 liters.
Our original hollowed bottom end plate enables mild heating and rapid cooling for precise temperature control.
Although compact, it has full scale function required for large scale fementor.
Either top or bottom entry driving system is available in accordance with the characteristics of the culture process.
Various types of stirring impeller are available according to the requirement of the culture process such as highly efficient oxygen tarnsfer rate, highly viscous culture broth or low shear stress.
We can supply various types of fermentor not only for aerobic microbes but also for the another cells such as anaerobes, ultra thermophillic bacteria, micro algae, mammalian suspension cells and so on.
You can make a choice from our series of fermentor according to your requiremennt for your bioprocess.
Bioneer-Neo seiries: The latest model of Bioprocess Controller with Max.12 channels of measurement item.
Bioneer sreies:Long time seller standard model of Bioporcess controller with Max.8 channels of measurement item
MDL series: Long time seller model fermentor equipped with basic function for fermentor control(Temperature, agitation) and air flow rate changing
Bioneer-Neo Series
The latest model of Bioprocess Controller with Max.12 channels of measurement item.
Features
Easy operation with the 7-inch wide color graphic touch panel.

This model is factory equipped with the following items as described below.
-Mass flow controller for air flow rate control
USB port for saving data of each culture process in CSV format
-Transduce for measuring ORP(Redox Potential)
-Some kinds of feeding control mode
-RS232c serial port for connecting versatile electronic balance
-Packaged program for various modes of feeding control
-e.g. Elapsed time based program, pH stat, DO stat, turbidostat, chmostat continuous

Compact body 188mm width

Top entry driving system is also available for versatile cultureprocess.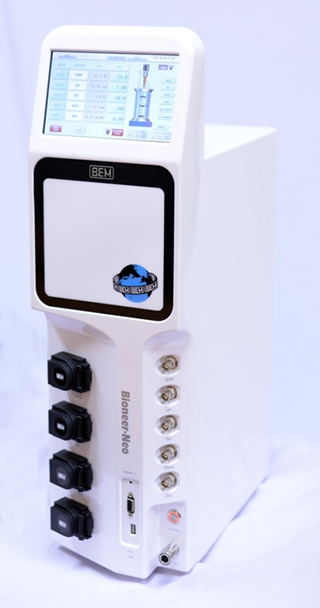 Bioneer Series
All in one type desktop fermentor with a 5.7 inch color touch panel.
Long time seller model of Bioprocess controller since 2001.
Features
5.7 inch color touch panel for M-M interface.

Capable of controlling up to 8 items. (Temperature, pH, DO,agitation speed and anti-foaming as the standard control and ORP(redox), turbidity, O2, CO2 in exit gas as optional measurement).

Max.6 controllers can be connected with a PC for data acquisition and monitoring control.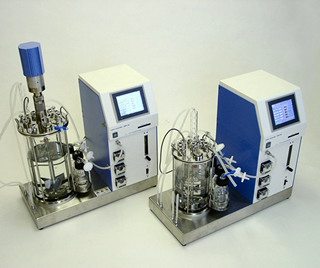 MDL Series
A long selling model fermentor of basically essential function with desk top convenience.
Feature
Low cost
Compact size
Seven sizes of vessel available; 0.5, 1, 2, 3, 5, 7.5 and 10 liters
Top entry driving system is also available for versatile culture process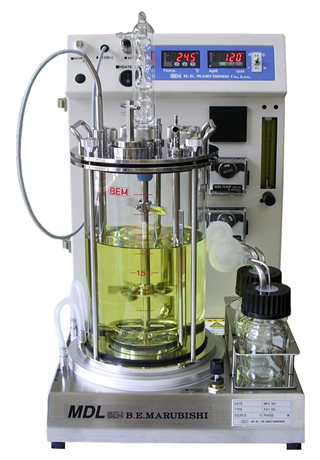 Pressurized culture fermentor
The fermentor to increase oxygen supply by applying pressure to the vessel.
Fearture
Maximum pressure 0.2MPa(G)
*Over 0.2MPa(G) is available if requested
Vessel volume is available from 2L to 10L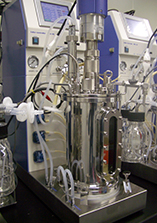 Autotrophycally culture fermentor
Fermentor which provides effective light source for such as algae,microalgae,phototropic bacteria culture.
Feature
Airlift fermentor
Fermentor which circulate the medium by only by aeration.
Feature
No need for agitation power
Easy to wash the inner parts of the vessel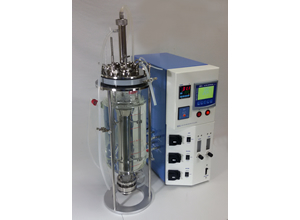 Autoclavable Solid state culture fermentor
Fermentor for solid state culture such as Koji (rice mold, soy beans).
Feature
Intermittent agitation for flaking the solid state medium with adjustable time interval
Humidity change by intermittent spraying of sterile water in the fermentor vessel