We have achieved abundant know-how through construction of fermentor of all scale and related eqiupments of which are made use for a bioprocess plant made of a seires of bioprocess equipments.
Our bioengineering usually starts with master flow plan making and make P&ID(Pipng & Instrumentation Diagram for each process equipment) to construct a series of process equoment from upstream to downsteam process.
They are equipments for media preparation/storage, buffer solution preparation/storage, cultivation, harvesting, cell separarion and product concentration.
Supporting a customer at every stage beginning with the basic planning
We'll support a customer at every stage of life cycle from planning, plant building, starting-up plant opearation, renovation and disposing.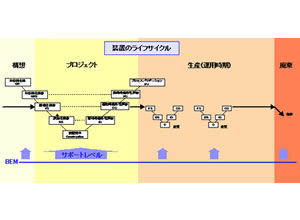 Design concept conforming to QbD
QbD (Quality by Design) is one of the important concept of pharmaceutical quality management based on science and risk management, created by ICH (International Conference on Harmonization of Pharmaceutical Regulations), which is proposed in the guidelines for safety and quality preservation(Q8, Q9 and Q10) .
We believe that this QbD concept is very important for equipment / plant design and control system design of building a bioprocess plant.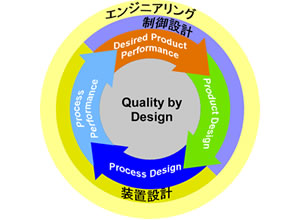 Device / Plant design
Thorough review of 3D-CAD design, we can to get rid of any deviation between the built equipment and the customer's idea to reduce making corrections.
It'a benefit both for the customer and us by shortening the project period.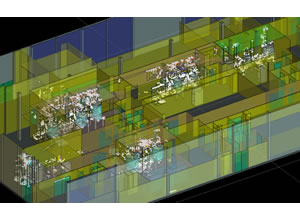 Control design
We have abundant experience in making kinds of packaged program for PLC(programmable Logic Controller).
(e.g. temperature control, feeding control, pH control, DO2 control, aeration control and so on)
GAMP 5 prescribes Category 5 for ladder program of PLC which we have repeated the necessary reviewing of the source program.
We have constructed similar programs in the past and it is highly experienced. The ladder program construction on PLC falls under Category 5 on CSV. We have repeatedly reviewed the program sources required for Category 5.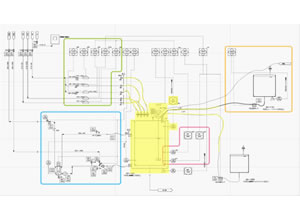 kLa measurement for a customer at the site
We have a kLa measurement service after the delivery and insatallation of fermentros in accordance with the customers request.
Equipment and facilities remodeling
Consult us about remodeling the existing equipment and facilities and our engineer will make a suitable proposal.