Our company has supported the recycling promotion project using waste to accomplish recycling-oriented economic society by our technology of manufacuring culture facilities.
Construction of bench plant for bioethanol production from wooden waste

The process used rice straw as a material for ethanol fermentation after enzymatic treatment of cellulose and hemicellulose.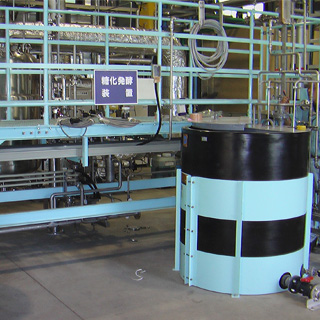 Construction of benchplant for hydrogen / methane gas fermentation from garbage

The process used organic waste of wet(garbage and wet paper) as material for hydrogen gas at the first stage and methan gas generartion at the second stage continuously.

The bench plant was operated by our engineer for demonstrative experiment for two years.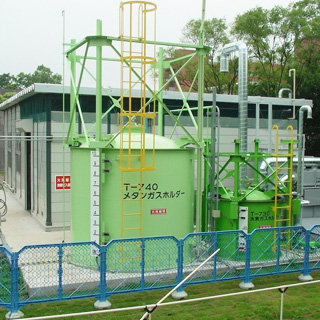 Energy utilization facility from hydrogen fermentation and methane fermentation process

Due to methane fermentation (anaerobic digestion technology), the generated biogas has a calorific value equivalent to city gas. We have built a system that generates electricity and uses the waste heat as a heat source for methane fermentation tanks, based on the "6 kW gas engine cogeneration system" which Aisin Seiki sells for city gas.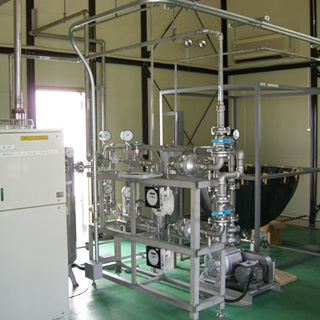 Support for development of biodiesel fuel (BDF)

We have jointly developed a testing equipment that makes alternative energy to diesel fuel by adding methanol to used tempura oil.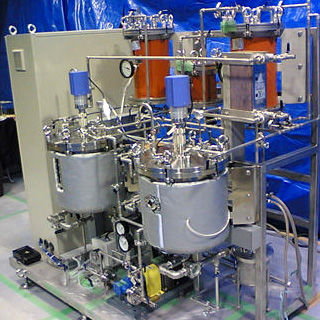 保存
Demonstrative plant construction for methane fermentation from woody biomass

An example of Methane fermentation pilot plant using 100% wooden biomass. The wooden tips were milled to powder before methane fermentation.
保存
保存
Marine algae methane fermentation reactor

A methane fermentation reactor using large marine algae "Kombu / Wakame" as a raw material. We keep reactor anaerobic state and we manufacture reactor with material excellent in salt resistance.
保存
保存